Laser marked metal – permanent laser marking
For the ultimate in high-resolution permanent signs and tags for industrial safety, national board R stamp plates, OSHA, API 650, control plates, and equipment identification, laser marking is the way to go.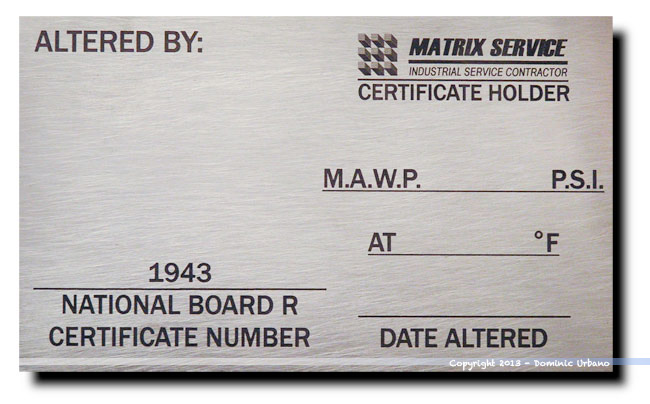 Perfect for ASME Certified for ASME U Stamp, and National Board R Stamp and NB laser marking vessel identification plates.
Using the power of the laser to permanently bond a ceramic-based material to the metal results in a high contrast black marking. The resulting marking is as durable as the metal itself and it can withstand the harsh industrial environments that are commonly the destination for ASME stamp plates. (Click here to see the results of a high temp ID plate heat test) The laser-marked plates are customized for each customer and carefully set to allow for your application to tank, vessel, or any other certified work.
Because the laser does not remove any of the base metal, this is a perfect way to add permanent identification marking to precision instruments or tools without compromising the integrity of the metal.
Perfect for equipment identification tags, LOTO locks, and key identification, control plates, altered, rerate, and repair plates, or safety tags in industrial applications. Anywhere there may be a concern that high heat, chemical, or harsh environment exposure may damage or wear other types of material this is a great solution.
Contact Gold Medal Productions for a quote on your next industrial identification tag or plate order.
Superior service, quality, and prices.