National Board R Stamp plates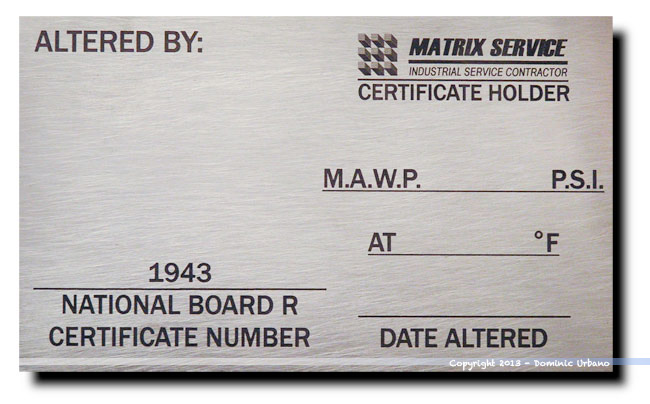 ASME National Board R and vessel certification data stamp plate supply with no minimum order requirements or set up fees.*
Gold Medal Productions supplies ASME Certified data plate for ASME U Stamp, and National Board R Stamp and NB Mark plates. Permanent laser marked stainless steel metal plates ready for your ASME stamp on repaired, re-rated, and altered vessels. Customize your order with the mix of plates to suit your current project needs with no setup or text change fees. There are no minimum order requirements. Whether you are ordering one plate or thousands Gold Medal Productions delivers superior laser marked products and rapid turnaround.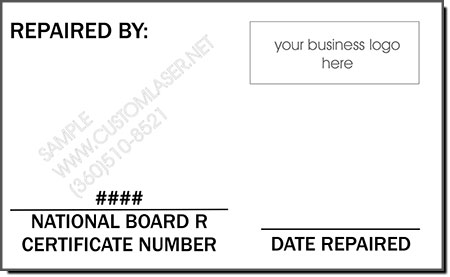 With substantial experience serving industrial clients and direct experience working in the type of environments that these plates are likely to end up, Gold Medal Productions owner Dominic Urbano, understands the important role that these 'simple' plates play. Gold Medal Productions provides high contrast permanent industrial vessel identification plates combined with flexible ordering and industry best pricing.
Each laser marking order is custom designed to meet the clients specific needs. Building loyal customers through superior service and pricing.
"…quality product, on time, and at a competitive price."
"We have been using Gold Medal Productions for a wide range of company needs, and have always received a quality product, on time, and at a competitive price."
Viviano Gutierrez – Quality Assurance Manager Matrix Service Inc.
Gold Medal Productions is a USA small business serving clients world wide. Proudly providing top quality custom laser engraving, laser cutting, and laser marking services since 2001.
*No set up fee when customer supplies a print ready copy of their business logo. A business logo is not required and there is no charge for a text based business identification.