ASME Certified Repair Stamp Plates
R Stamp Plates – Quick Delivery.
The call came in at about 8:30 AM. An AMSE certified R repair job could not be closed out because the company could not access their stock of R stamp plates. The person in charge of them was out of the country and could not be reached. The R plates were somewhere in one of their 22 site construction trailers and no one had been able to locate them. Rather than waste more time searching for them, they called me.
The question was simple. "Dominic, could you make us a dozen new R stamp plates today?"
The answer was equally as simple. "Yes."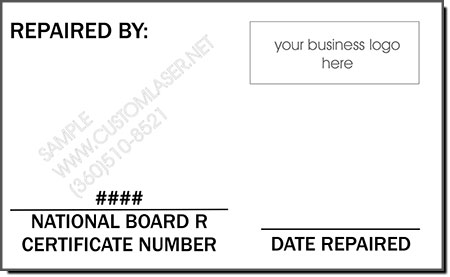 This was a new customer for Gold Medal Productions so we needed to complete the proofing process as well as produce the new stainless steel plates in time to have them packaged and shipped by that afternoon. Within two hours the layout was done and we had proof approval. By 1:30 PM the new R stamp plates were on their way to the customer via next day air.
ASME-certified R stamp plates may not be the sexiest part of a repair, re-certification, or alteration project but they are critical to closing out a job. At Gold Medal Productions we keep a stock of 304 .048 stainless steel blanks on hand at all times to offer quick delivery of your custom R stamp plate order.
If you are an ASME certified company with a need for new R stamp plates call Dominic for a quote.
"R" stamp blanks are made to your layout specifications. Permanent laser marked text and lines are set to best enable you to make the final stamp marks such as your National Board "R" & "Date Repaired" date. The laser marking is as resilient as the metal that it is on. While 304 stainless is the most common base material order for these blanks, the laser process works with virtually any metal.